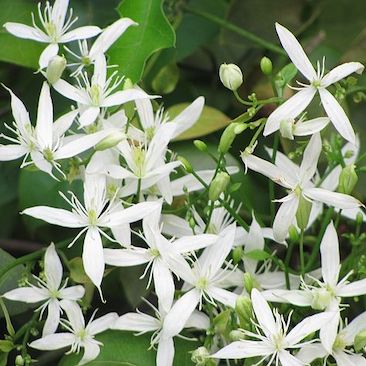 Northeast Pollinator Plants
Clematis virginiana (Woodbine, Virgin's Bower)
We ship only to the New England and New York states. If you live near Fairfax, VT, consider buying at our farm, River Berry Farm.

Shipping will be in the order received.  Please check the

 

Home Page for updated expected ship date.  Free shipping for 15 or more plants.

Plants are delivered in a biodegradable wood fiber pot, 2.75" diameter by 3.5" deep.  

Please email if you prefer to order/pay by check than on-line, see Contact Us below.
Common Name:  Woodbine or Virgin's Bower

Attracts:  Bees and Hummingbirds
Use:  Naturalizing
Light:  Full Sun to Shade
Hardiness Zone:  3 to 8  USDA Zone Map

Soils:  Medium to Wet
Flower Time:  August to October
Flower Color:  White
Height:  12' - 20' climbing vine
Notes:  Clematis virginiana (Woodbine) is a lovely and fairly common woodland vine that can spread somewhat aggressively amongst other present trees and shrubs, though rarely to the point of strangling, so not to worry, but to periodically keep in check.  The flowers produce a sweet odor and the seed head is a charming and distinct fluffy "beard".  Deer tend to leave this alone.  Caution:  The leaves are poisonous to humans.
Host plant of VT Bee Species of Greatest Conservation Need (SGCN):
Colletes kincaidii (Kincaid's Cellophane bee)
Native to all of Eastern, Midwestern US to western most parts of this region.  Biota of North American Program (BONAP) - North America Plant Atlas (NAPA).
Regional Ecotype Seed Source:  VT
---
Share this Product