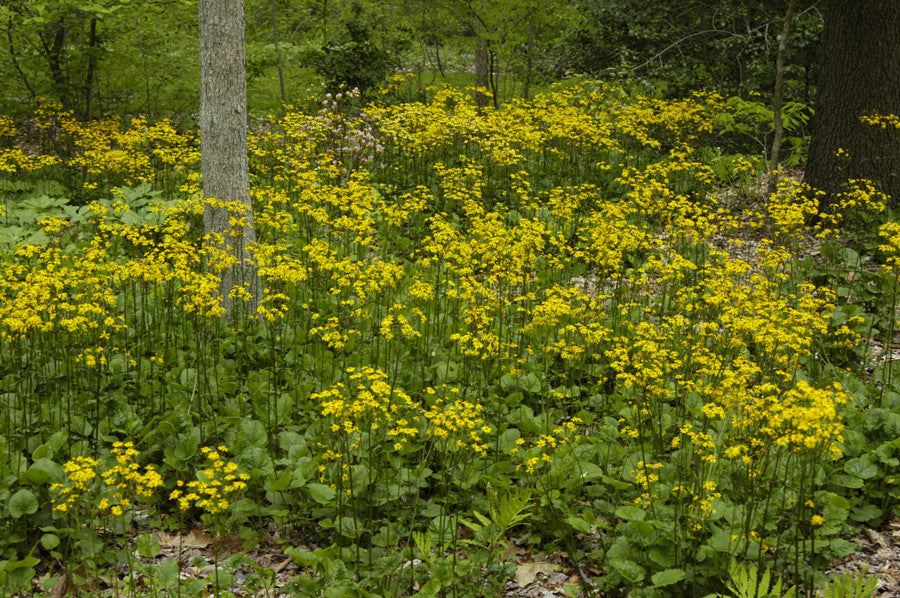 Northeast Pollinator Plants
Packera aurea (Golden Groundsel) available as singles or tray of plugs for ground cover
We ship only to the New England and New York states. If you live near Fairfax, VT, consider buying at our farm, River Berry Farm.

Shipping will be in the order received.  Please check the

 

Home Page for updated expected ship date.  Free shipping for 15 or more plants.

Plants are delivered in a biodegradable wood fiber pot, 2.75" diameter by 3.5" deep.  

Please email if you prefer to order/pay by check than on-line, see Contact Us below.
Common Name:  
Golden Groundsel
Attracts:  Bees
Use:  Excellent Tall Ground Cover for Pollinator Garden
Light:  Full Sun to Full Shade
Hardiness Zone:  3 to 8   USDA Zone Map
Soils:  Dry to Wet, Acidic
Flower Time:  April
Flower Color:  Yellow
Height:  .5'-2.5'
Notes:  Packera aurea (Golden Groundsel is an excellent naturalizing ground cover for sunny to shady, moist to wet, pollinator gardens, providing early flowering and establishing into large colonies.  It is a worthy contender for non-native invasive ground covers. but is temperamental to germinate.  We are not giving up and hoping to offer a supply in the near future.  To read a testimony of how Golden Groundsel out-competing some invasive non-native ground covers read this: https://www.humanegardener.com/how-to-fight-plants-with-plants/
Please note, all species of Packera are considered toxic to horse, cattle, goats, sheep, and humans.
Native to the Eastern, Midwestern and Southern US:   Biota of North America Program (BONAP) – North American Plant Atlas (NAPA).
---
Share this Product